Acuvue Wink Campaign


The insight for this execution was that inferior lenses can cause unintentional 'winking' however with 1-Day Acuvue Moist contact lenses you can intentionally wink at whoever you like.We developed more than 20 different winks, allowing users to send flirty, shocked and mischievous winks, we also developed Christmas winks to be sent across the holiday season.

'Acuvue Wink' was the first branded Facebook application to be launched from Australia. At the time Facebook was still emerging as a social networking platform in this market. The fact that we were the first brand to really utilise the power of the medium enabled us to position the brand as innovative and on-trend; key attributes for a brand wanting to connect with an 18-29 year old audience. The subtle branding on the application meant that users were comfortable sending the winks helping us deliver our reach objectives and making 'Wink' a formidable viral execution.

Thecampaign performed extremely well. At the height of the campaign nearly10,000 Facebook users were 'Winking' on a daily basis, allowing us toachieve some incredible results from an unproven medium;

These results apply to the initial phase, running from August 1, 2007 to December 31, 2007.

Application downloads: Target: 10,000  Actual: 65,000
Number of unique wink receivers: Target: 100,000  Actual: 516,000
Number of winks sent: Target: 500,000  Actual: 1,030,000

Most importantly the volume sales of 1-Day Acuvue Moist contact lensesincreased by a massive 17% and value sales by 18% versus the previousquarter. The online only campaign also enabled the brand to reach itshighest awareness levels ever.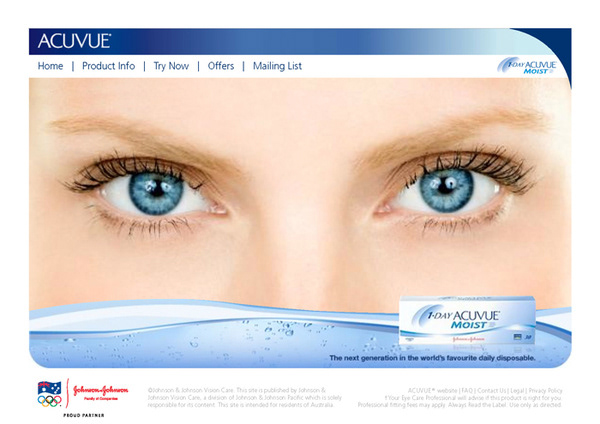 Awards

Finalist Direct Lion, Cannes Lion 2008
Bronze Echo Award, 2008
Gold James Burke Award 2008, Johnson&Johnson