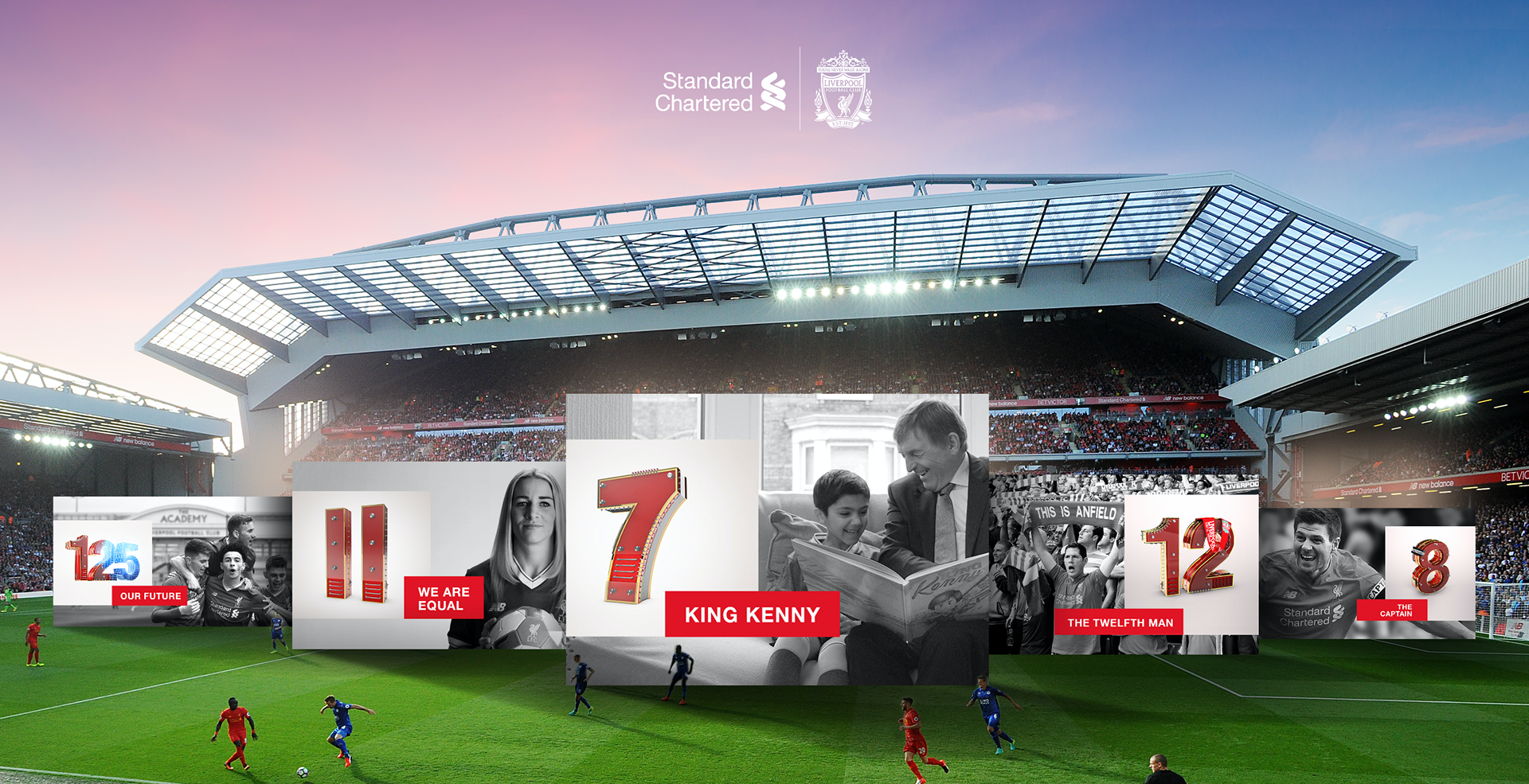 Standard Chartered Bank have long understood the power of entertainment in marketing. Recognising sports ability to engage, entertainment and persuade a global audience, they have proudly been the main club sponsor of Liverpool Football Club for over a decade.

In 2018 the club celebrated their 125th anniversary and to mark the occasion Standard Chartered created a series of stories told through traditional and unique methods. From a cutting-edge binaural audio experience, to documentary films and even publishing a hardcover children's book, we pushed the bounds of entertainment with this integrated sponsorship campaign.
The Power of Numbers
 is a season long, global campaign, featuring numerically themed stories leveraging Liverpool Football Club legends, milestones, players and fans to demonstrate the banks values and rich human approach.
125 years might seem an odd anniversary to celebrate – we thought so too (at first) - but for a club with so much tradition and history, any reason to recognise a milestone is welcomed. The challenge for the agency was to find a relevant and meaningful role for a bank in this celebration.
Our primary brief was to reinforce and amplify the Bank's partnership with Liverpool FC in it's vast and diverse global markets. 40+ in all,  from Jordan to Singapore, London to Jordan, Hong Kong to Kenya and provide a way for local markets to engage customers and generate retail business.
The bank also wanted content that would increase positive engagement on Standard Chartered's social platforms globally. And we all know how hard it can be to say something nice about a bank….
Describe the creative idea
125 years is a significant milestone. But it's more than just a number. It's a signifier of tradition, history and legacy. For hundreds of millions of LFC fans, it means so much more.
And no brand understands the meaning of numbers more then Standard Chartered. As one of the world's leading global banking brands, numbers are our business. 

Our creative idea took to heart the Power of Numbers. We chose to not just look back but use numbers to project forward to the future of the club. By creating a series of numerically themed stories, we would engage passion fans everywhere in a way most appreciate for a proud sponsor and world leading financial institution.

FAN INSIGHT – With almost 600M 'Reds' fans globally, the majority of LFC fans will never get to visit the legendary home ground, Anfield.
STRATEGIC INSIGHT – Bespoke psychographic fan research showed nostalgia as a powerful emotional driver for Tribal sports like football and appropriate for a club to look back on to celebrate. However as a progressive banking brand, Standard Chartered should always be looking forward.
CULTURAL INSIGHT – SCB's growth markets are predominantly in Asia. In this culture, numbers have special meanings, rooted in mythology and storytelling.

STRATEGIC POSITION - Harness the power of nostalgia during the 125 Anniversary year to gain global fan attention. Then, deliver creative that leverages this attention into a forward looking, brand relevant story leveraging the mythology and history of Anfield – all whilst recognising the power of numbers in our key growth markets.

We created 9 original, diverse and entertaining, numerically themed pieces of branded content. From short form documentary films to cutting edge 3D Binaural Audio experiences and traditional print publishing with the creation of a hard cover children's book – we entertained in all formats. 

Core executions were promoted via
240 pieces of bespoke content
featuring the players, managers and fans of the club – delivered in
7 languages across 40 countries
. 40 SCB markets leveraged this global campaign with local adaptations delivering over
280 million campaign impressions worldwide.
Using LFC and SCB owned social media and targeted seeding campaigns via football networks including ESPN, Fourfourtwo, GOAL and Soccernet we generated over 70 million views of the films and audio content.

Including offline activity – like our children's book King Kenny - we were able to reach more than
80.5 million LFC fans and bank customers with an average engagement rate of 1.95% - Triple the industry average.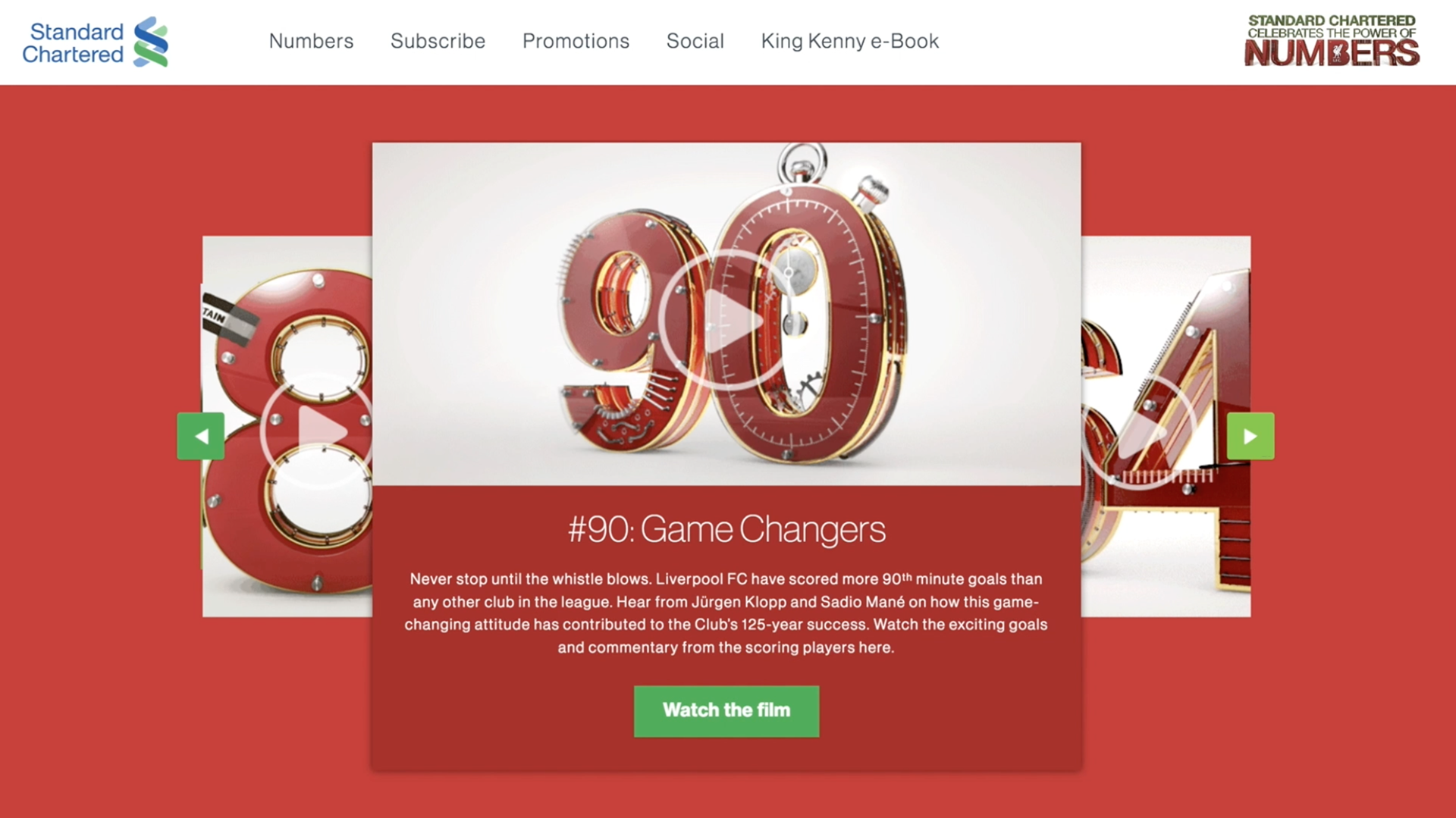 Standard Chartered Celebrates The Power of Numbers - 
A season long, global campaign, featuring numerically themed stories leveraging Liverpool Football Club legends, milestones, players and fans.
The Power of Numbers Launch
Film>